Mallow Academy -DMM Online Salon-


2022.12.1 Start
Ideas and Recipes to fully enjoy "Flowers"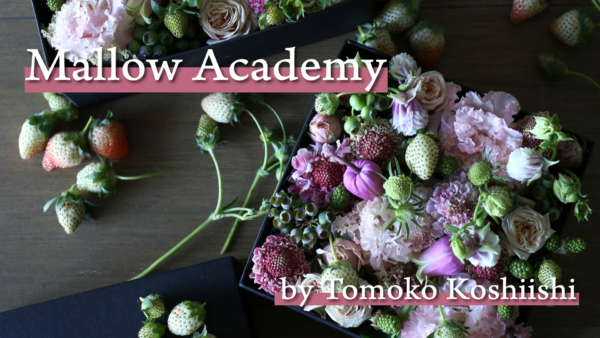 DMM Online Salon Mallow Academy is a monthly charged online salon for those who want to fully enjoy and learn "Flowers".
Until now, "Mallow Academy" was a content on an exclusive instagram account. From this December, it will be available through the DMM Online Salon platform.

The making movies of bouquets will be edited and made easier to watch. The salon management program will remain a live session. All the movies will be archived and available to watch anytime.

You can join this online salon at your desired timing and you will not have to re-entry the program each year.

I believe that the merit of an online salon is that you can continue "at your own timing" and "with fun" .

Movies will be uploaded regularly as well as live sessions. Also, I want to cherish the off-line connections like the ongoing Mallow way too.
Mallow / Tomoko Koshiishi
Disclosure of all the recipe of Mallow lessons "Ouchi-bana (house flowers)" and "Mallow-bana(mallow flowers)".
You will be able to experience the actual Mallow lessons offered at the atelier. The full recipe will be available, such as the used flower names, quantity, etc.

The content of the existing Mallow Academy will be renewed and revised for a better understanding of the makings of the items.
(All the Christmas lesson wil be available from Dec. 1st)
English subtitle version may be later than the Japanese movie upload.
Disclosure of Wrapping, Ribbon work, Season item making movies.
As well as the season flower items making movies, the basics of bouquet wrapping, arrangement wrapping and the materials used will be shared too.

The knowledge of different types of wrapping method should come in handy in many occasions.

Whenever you have forgotten or you do not know how to…you will be able to go back through these movies.
Salon Management Program
This will be a 6 time live session program offering the how-to's of home salons, such as how to create lesson menus, etc.

The participants will be able to apply the content to their own home salon management.

Each home salon has its own style. I hope that program will help start your own home salon.
This program is Japanese only. The Japanese page is availablehere.
Off-line content available too
Online salon members pre-sales, item sales information will be available.
No overseas shipping is available.
Subscribtion, fees, etc.
Check the top page of DMM Online Salon "Mallow Academy" page.
DMM Online Salon is the platform and you will need to have a DMM acount to subscribe to the salon.
After you subscrive please wait the approval from Mallow. This approval proccess may take a while.
You can chose from 3 plans, 1 month/6 month/1 year. The 6 month and 1 year plan has a better rate than the 1 month plan!

Please check the details of the DMM online salon at

this link